What's Your Story Arc?
It's my second weekend in Santa Monica since moving. Well, kind of. I'm going to be in San Francisco in the middle of the week to teach my UX class at General Assembly.
"Wait, you're living in Santa Monica AND San Francisco?"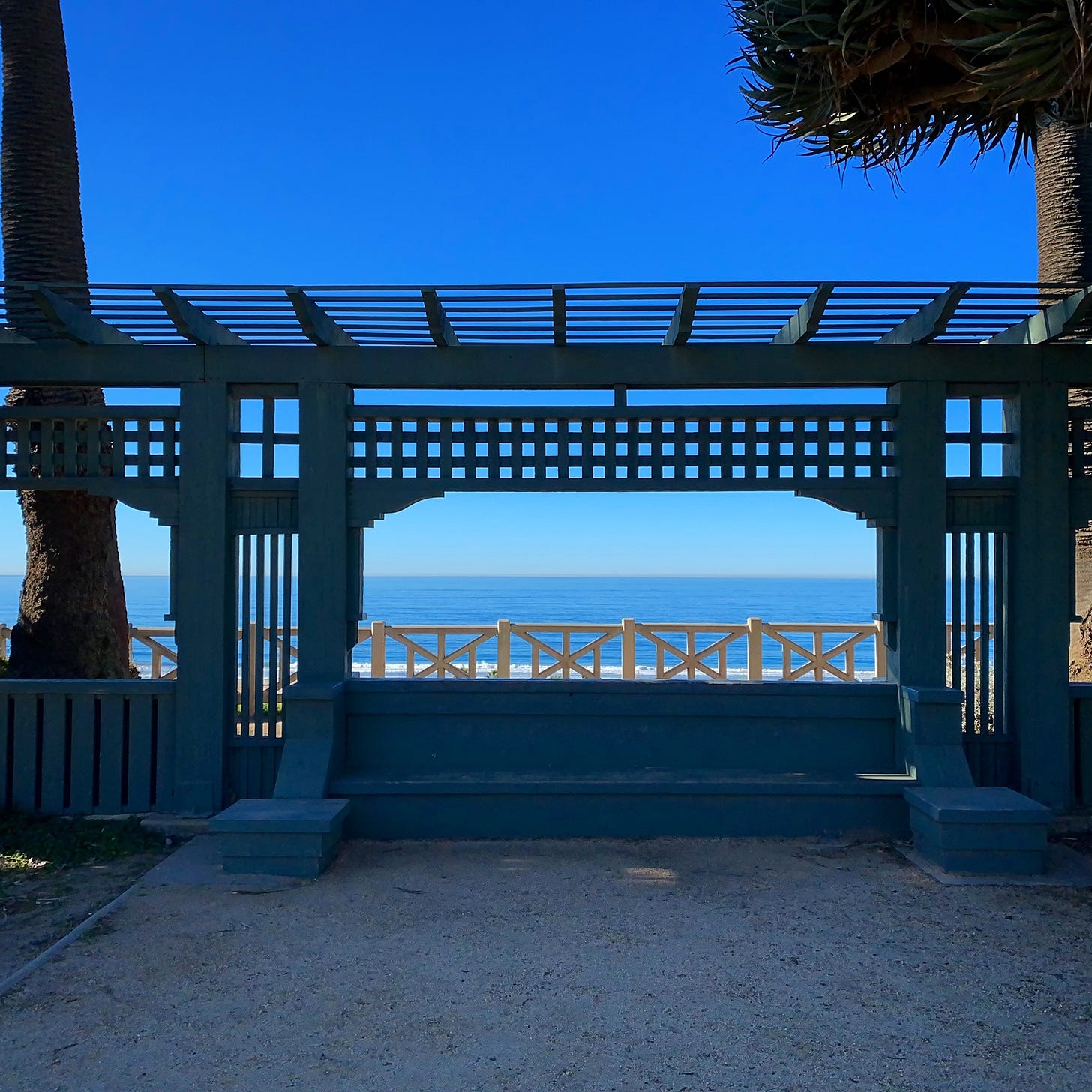 Yes. I'm going to figure the rest out. I was reminded by a friend that I used to do Seattle and New York living bicoastal. This should be simple in comparison. When people find out I live in multiple cities, this question often comes up.
Hooooowwwwwww?
I try to focus on spends I think that can be value adds. Two rents is hella (as they say in California) expensive and quite the commitment. However, I am pretty minimal on other spends. I don't buy fancy clothes constantly and rather invest in fewer things at a high quality. I don't really drink or go out to eat a lot. Add that up and you'll see where your money goes.
It's not necessarily about wealth and resources but discipline with how you use it.
I don't want to have to compromise based on location. My hope is in the future location will become more ubiquitous and equalize everywhere. More remote work and more rapid transit.
That HyperLoop can't come soon enough though.
Proof of Concept: A Creative Recharge Retreat
The Coachella Valley is one of my favorite places to go to rest and recover. I was never a dry weather person, but if there is a pool and air conditioning I can handle it. Throughout the history of humankind, people often get lost and find themselves in two places: the ocean and the desert.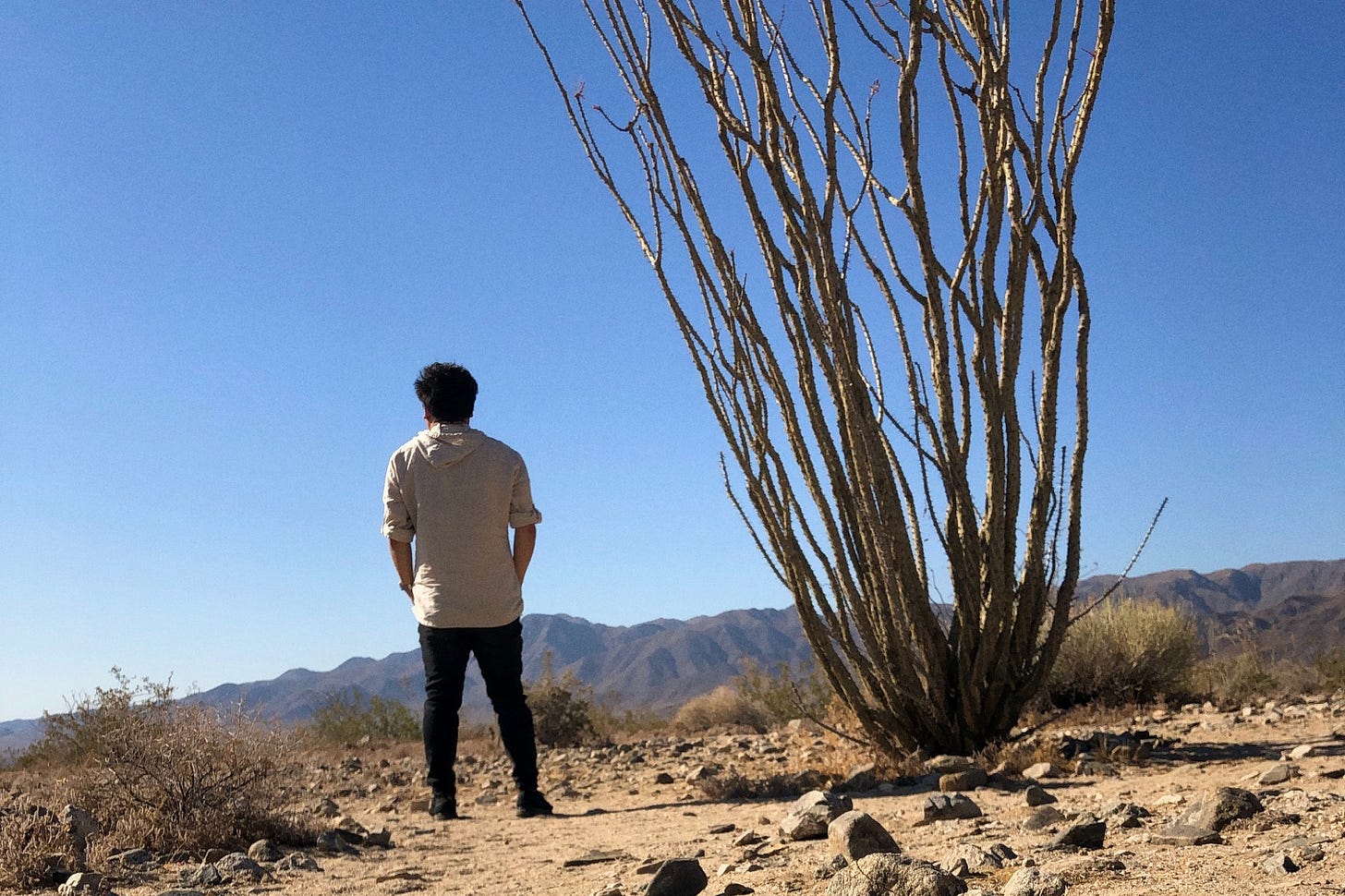 This March, I'm experimenting with a weekend retreat. The idea is to gather like-minded people to break bread, build community, and take a creative recharge.
Some things I enjoy to creatively recharge:
Exploring product ideas (build to learn, then toss)

Making visuals

Photography and hiking

Sketching and journaling

Writing
If you're interested in this please send me an email. We'll likely start with a small group but if there is interest and success I'll likely host a couple more each quarter. One dream I have is to build or buy a house out there that can be a creative getaway for people.
Big topic: January 2020 was quite the year
The new decade started out with some hard hits in the news and my personally life. First, the passing of my friend and mentor Jeff McLeman. A few days after that, former Laker great Kobe Bryant died in a tragic helicopter accident with his daughter Gigi and nine other passengers. Kobe is someone I grew up admiring and looked up to as a hero.
However, it's important to call out his dark past with his sexual assault case. We can't hide it, and it has to be a part of his legacy we talk about. When we look back at stories, we can't turn away from the dark aspects of it.
At some point I'll write about Kobe's basketball career impacting my life, but for this, I'll keep it focused on loss of loved ones so suddenly and their arcs. From these two losses I encountered in January, I thought about lessons I learned.
Put in the work
Even later in your career, the hard work is something you can't avoid. There is this infamous story about Kobe Bryant practicing at 4am before a game for the Olympics. We live in a world where often instant gratification or growth is demanded so quickly. Regardless of any innovation and advancement in technologies, nothing will replace practice, hard work, and putting the time in to get better.
Don't fear striving for greatness
What will you dive back to your practice? Be a beacon of greatness with your modern peers.
Be real and be authentic
This is probably the most important I learned. Be unequivocally you. Jeff McLeman didn't have time for BS. He really cared for you but you had to be real. I mean, he is from Boston, so it's no surprise.
What story arc do you hope for in your life?
At 41, Bryant was just transitioning into his post-basketball career. He's the first person to win an NBA Championship and and Oscar for his short "Dear Basketball".
Tech won't be my entire life. I sometimes have to remind that while I'm in the midst of working in Silicon Valley. I very much enjoy it and will continue to work in it for a while. However, what's next for me? There are so many things, but teaching and mentoring seems clear cut.
I earned a BFA in visual arts and after graduating my goal and aspiration was to pursue my MFA to teach at a university. I almost did. I applied to Notre Dame, Syracuse, and California College of Arts (CCA). I got into CCA. However, the cost of it was so high. I ended up deferring for a year and while waiting got work designing apps for this new platform called iPhone OS. The rest is history.
I started teaching at General Assembly last quarter and it re-ignited my passion for teaching. Though I plan on working in tech for a lot longer, I've started thinking about how to prepare for the next phases of my life. For me, continuing to teach, doing workshops, and teaching the next generation of designers and entrepreneurs is what I'm optimizing for.
What is your legacy? How do you want to be remembered?
Take some time to outline your story arc
With such events and reflections, I've been thinking a lot about story arcs, particularly for myself. As we look back at the tapestry of our life, what moments do we hope to see?
Take a few minutes in your morning and reflect on what you want your story arc to be. These aren't only professional accomplishments, but how you want people to feel when they remember you. It goes beyond what you do in your career. What stories do you want people to remember the impact you made on their lives?
If you can, pick up the phone and call those you've had falling outs with (if you want them back in your life). Bury the hatchet and tell them you love them. Nobody is perfect. We all have regrets or wish we could do differently. Though those moments have passed, it's not too late to learn from them.
With that, whether you're a long-time friend or someone I never met, thank you for taking the time to hear a bit about my life and I hope you're around loved ones.
I'm so excited for all the chapters I plan for the rest of my life and been noodling on that a lot. However, life is so short, don't lose sight of the present, and enjoy it.
All the best,
DH