Welcome to Proof of Concept
Issue 01: The first draft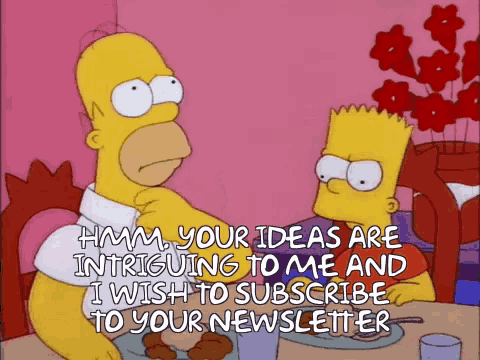 "Your ideas are intriguing to me and I'd like to subscribe to your newsletter" —Homer Simpson
---
Hello! I've sent newsletter on occasion in the past, often with very little focus and an unpredictable cadence. It was usually called "David's Newsletter" with updates 1-2 times a year. After many failed attempts I'm happy to share with you a newsletter idea I can galvanize myself around: Proof of Concept
What is a proof of concept?
A proof of concept is a realization of a certain method or idea in order to demonstrate its feasibility, or a demonstration in principle with the aim of verifying that some concept or theory has practical potential; perfect for what I'm hoping to share with you.
My career has spanned from creative, design, tech, and product. I've asked to create prototypes or concepts to validate an idea or sell a story. These are often early iterations, pretty raw, and intended to solicit feedback. This feedback and engagement is crucial to making something great.
So…who are you?
My name is David (he/him/his) and often referred to as DH. There is no interesting story to this aside that I'm one of many David's at a company. Hell, I'm not even the first DH in my family (see my brother Daniel's website).
I'm currently the Director of Design at Webflow, a remote-first company on a mission to democratize creating on the web for everyone. In addition to Webflow, I am a startup advisor, design mentor, and UX Design Instructor at General Assembly. You'll often find me boarding a plane to travel and living in San Francisco and Los Angeles. If it helps with clarity, I pay California State Tax and call it home now.
Why a newsletter?
I firmly believe it's important to share ideas and get feedback to truly make them great. After the rise of social media things have equalized for me and my consumption. I've been focused more on smaller groups and email is a great platform for that.
What should I expect from your newsletter?
Proof of Concept will be much about early iterations both professionally and personally. Expect something between a LinkedIn and Tumblr post in terms of intimacy. It's important for me to share with you real stories and experiences. You'll get professional updates and side projects I'm working on, such as an open source book about design, tech, product, and popular culture.
I'm very inspired by Polina Marinova's newsletter The Profile and might do an interview series with up-and-coming designers in the industry.
Are you going to charge money?
Substack is the platform I'm using to send newsletters. I made the switch from Mailchimp, which is a great product, but I have no intention to build out a cart abandonment campaign to use on you. This platform allows you to enable paid memberships for newsletters.
There are potential series I may do paid (such as workshops and talks I've given) but expect to keep the Proof of Concept newsletter free.
Really, I am so appreciative you signed up to hear from me!
What is this monkey business?
You may have received this email imported from my Mailchimp newsletter. If you decide to unsubscribe, no hard feelings at all.
Interested? Follow me on Twitter and my website and look to hear from me via email once or twice a month. Hold me accountable if you don't.
Send me an email!
Whether you have a suggestion of something to write about or want to collaborate on an interview, please reach out! I'd love to hear from you.
Wishing you a wonderful holiday and reminder to update your website footers to 2020 on your static websites.