There's Always More Cheese
Issue 4: The infinite chase for compensation
Negative chargers are attracted to positive charges the same way mice are attracted to cheese. Any time there is a natural attraction between two things we use it to make the objects do work. The negative charge (mice) will gladly do work in order to get the positive charges( cheese).
Like many of you (but not enough of you...looking at you Huntington Beach), the last several months of sheltering in, and my girlfriend and I have been spending a lot of time at home. Though we try to spend as much time away from screens as possible, nostalgia has kicked in a bit with playing classic 8-bit games on the Mac with Open EMU. One of our favorites is Super Mario Brothers 3 for the Nintendo Entertainment System (NES). It's a blast from the past to my childhood; playing this game for hundreds of hours with my brother.
Though I could spend hours writing about the unique level design of the third game in the iconic series, I'll focus on a breakdown of our playing styles and the intention of this story. Jessica plays with a sense of calm. She doesn't run, often waiting for the right time to move in the level. I, however, have a tendency to play as if it's Sonic the Hedgehog, a game, if I were to be honest I prefer. I move fast and try to collect all the coins. Guess who dies the most while playing this game? You guessed it, me.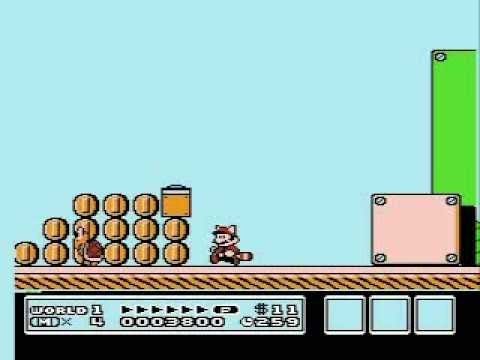 Confession, playing it on the emulator is not completely fair or natural as you would with the cartridge you'd have to blow to de-dust. We're able to save the game despite not being allowed to on the console. Let's pretend Jessica and I didn't cheat the system and couldn't save; played it like you typically expect. I likely would have lost my stakes because of how I play. The way I play tends to give Jessica a lot of anxiety.
"Oh my goodness, you're like Gus Gus in Cinderella," Jessica said to me as she lightly hit me on the shoulder. 
Gus Gus...Like Obi-wan Kenobi in "Star Wars: A New Hope", I recalled the name as one I haven't heard since forever. Who is Gus Gus?
If you aren't aware, Gus Gus (Who's real name is Octavius) is one of the mouse friends of Cinderella in the 1950s Disney classic. I'm going to assume you've been able to see this movie in the last 70 years and don't mind it being spoiled.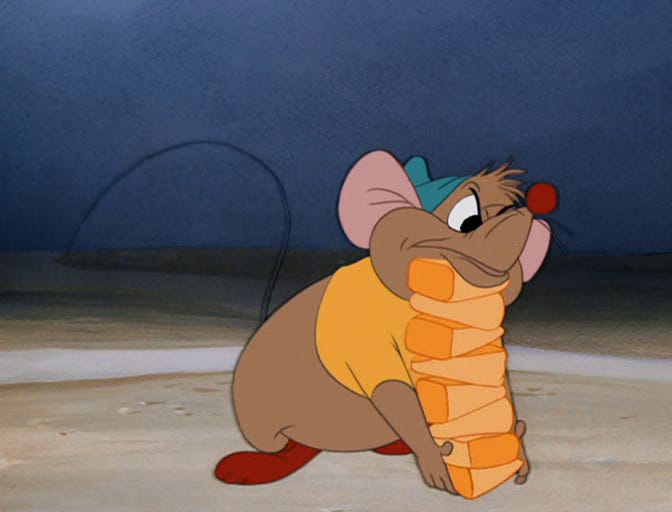 There is a scene where Gus Gus sees a bunch of cheese on the ground as he and his friends are running away from Lucifer the cat. While his mouse friends are alerting him to get away to save his life, Gus Gus, the mouse who always needs to treat his belly, continues to pick up all the pieces of cheese. Several times he struggles to hold them all, dropping them to the ground, and picking them back up. Each piece of cheese he attempts to pick up, Lucifer, who also needs to treat his belly, approaches closer and closer to Gus Gus. After many failed attempts and enduring near death, Gus Gus drops the cheese and runs in the mouse hole to safety.
Why do I play like this? I think it's because I always aspire to aim for high scores; trying to capture every single coin and power up (even when I already have one).
What is the purpose of playing the game? Is it about getting the highest score? Surviving? Having fun? 
Damn. That's a good question. All I could think is, "the high score will always get higher." Whether it's my own score or someone else's, the bar will continually be raised.
In the midst of this routine, I've spent a lot of time coaching designers, both at my current company and externally on my own. I've really embraced the role of a coach to simply ask questions and guide. My goal isn't to tell people what to do, only to ask questions and help uncover their purpose and path. Career progression often comes up.
What is cheese? Here are some examples: 
Compensation

Title

Role and responsibility

Equity

Ping pong table (just kidding, nobody wants that)

Whatever blinking star you think is going to power you up.
I vividly remember a conversation I had last year with a mentor. He made a reference to the film "Wall Street: Money Never Sleeps", the sequel to the 80s classic starring Michael Douglas and Charlie Sheen (before he was bi-winning).
Shia Lebeofs's character (pre-"JUST. DO. IT"), asks "What's your number?" What's your number to walk away from it all? What's your number to keep pushing? Essentially, what he was asking him was "What's your motivation?" Bretton's response is incredibly interesting, his simple reply is "more".
Cue the crescendo of the epic music and end scene.
More. There's so much to think about when it comes to how much cheese is the right amount for your life. I'm not here to tell you the right answer. Every person has different upbringings, different motivations, and different needs. For me to even make a suggestion is a bit presumptuous.
I can tell you that through my conversations with many professional designers, people all have different flavors of cheese they prefer. Some prefer the startup focused on high risk in hopes of economic gains down the line, others may prefer as much cash as possible to pay off some debts or help their family members out.
If you're part of a gender or ethnic group that isn't equally compensated, or someone impacted by COVID-19 looking for work, please, get more and get that cheddar. However, if you're in a fortunate place who doesn't have to think about that, there's always more.
There's always going to be more. You can get more money, a better role title, more recognition. I can share with you from my own experience, it'll never end. One personal perspective I'll share with you is to get your needs covered. You're not being selfish. Get the essentials. 
As I continually ask myself this, I ask you, how much cheese is enough for you? Remember, there's always going to be more cheese.