The Lessons Learned From Teaching
Proof of Concept #005: Reflections after one year of teaching design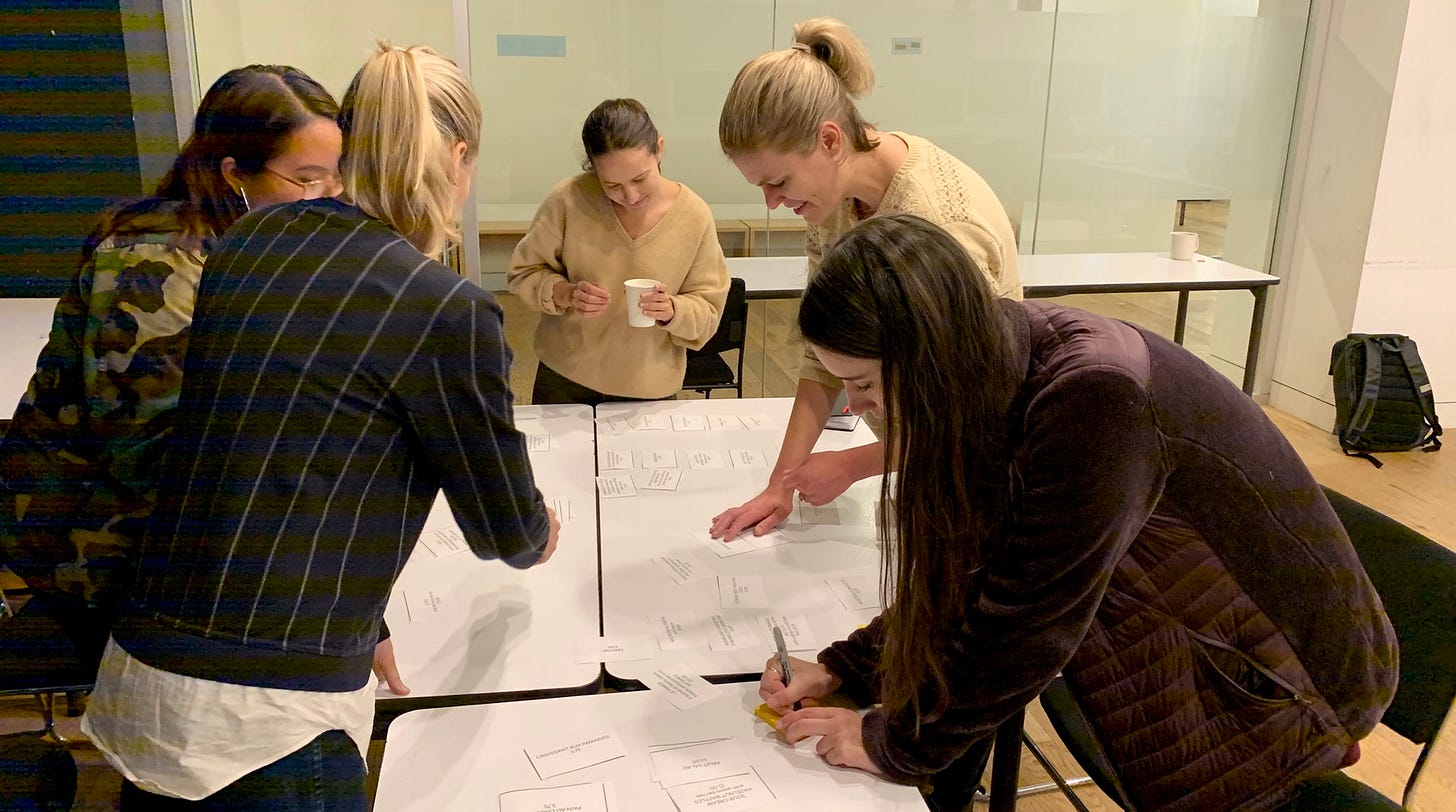 It was around at this time when I was in week three of a sabbatical. I recently left my role at One Medical after four wonderful years and began the pursuit of the next unwritten chapter. There were two things I was looking to do. The first was to work remotely or in Los Angeles, where my girlfriend lives. The second was to allow this free time to explore and refactor my career a bit. When you have a full-time job, it can be challenging to find time to fine-tune yourself.
My moment of clarity came while half-watching a Fast and Furious spin-off with The Rock and Jason Statham; the movie to watch when you need to empty your mind. It's the palate cleanser (like ginger when you're eating sushi) to start any sabbatical. I avoided knocking over my theater-quality chicken tenders to grab my LEUCHTTURM1917 dot grid notebook to put write a few thoughts.
What would I do next? What do I want to explore? My goal was to give myself adequate time before taking a new role or starting a new company. Though I wanted as much free time as possible to play and explore, rent and bills remained a thing to deal with. I knew I could go back to consulting and freelancing again, though that felt like it wasn't in the spirit of exploring something new.
Prior to working in tech, I dreamed of earning my MFA in art in order to teach at the university level. My BFA is in visual arts and many moons ago I was taking a gap year to apply to grad school. I never went and instead started doing freelance design work for this new operating system called iPhone OS (now called iOS).
Without a master's degree or teaching certification, I did research about different opportunities without going back to school. Nick Finck was at General Assembly (GA) at that time, and I heard from him about how much he loved being an instructor. I reached out to him to learn more. Nick, being the connector of humans he is, immediately made an intro to the instructor management team at GA in San Francisco. After a few meetings and interviews, I was fortunate enough to have an offer to teach the part-time User Experience Design class. I went in not knowing how long my teaching tenure would last and figured to try it out to see how it goes.
Ironically, the campus of GA was blocks away from where I spent the last four years at One Medical. Upon walking into my first class to teach, I knew I was embarking on something that would change my life.
The cliche is that as a teacher, you learn much from your students. Like many cliches, they hold a lot of truth, and this is 100% true. What began as a "hey, let's try it" is now a year of instruction at GA and guest lecturing at other institutions of what could be something I do for the rest of my life. As I continue to learn through my students, I'd like to share a few things I've learned.
Mastering preparation
Being an effective instructor requires you to care about the students, have knowledge of the subject matter, and teach in an engaging way for students to learn the concepts. The rest is honestly preparation. Teaching is a consistent routine: lesson planning, classes, office hours, grading homework—rinse and repeat. I considered myself organized, but teaching is a whole other level that requires the utmost consistency. It's a routine you need to have week-over-week.
Teaching requires unlearning
Over the years as a practitioner, you build these habits that become autonomous over time. I found myself in early classes (and at times now) that the muscle memory would take over without breaking down what was happening. Having a beginner's mindset can make you a more effective instructor.
The compound effect of teaching
Many times I reflect on what I learned from my college professors years ago. Those lessons at times took many years to resonate. The prime example being my appreciation for Dada. I struggled in my early years as a student to appreciate Marcel Duchamp's installation of a urinal or the music of John Cage. Teaching goes beyond the course to set a course for your students. Remember that you are paving the way for many years and you might not see the impact immediately.
The continued journey of teaching
Teaching a design class started as something I wanted to experiment with and turned into a career-changing decision. If you've ever considered teaching, I encourage you to try it. What would your dream lesson be? Start with being a guest lecturer or volunteer in a class to start.
Clear your mind by watching Hobbs & Shaw, and I assure you there is something you love in this world someone would love to learn.
P.S. I'm always looking for new opportunities to guest lecture at schools. If you are interested, let's chat. I'd love to introduce people who want to get into teaching to be a part of it.
P.P.S. If you teach remotely, I wrote an article a while back about using Figma to create a collaborative classroom that might be helpful.