Prototyping and Experimenting Chronic Disease
Proof of Concept Issue #006: My personal story with Type 2 Diabetes and iterating to better health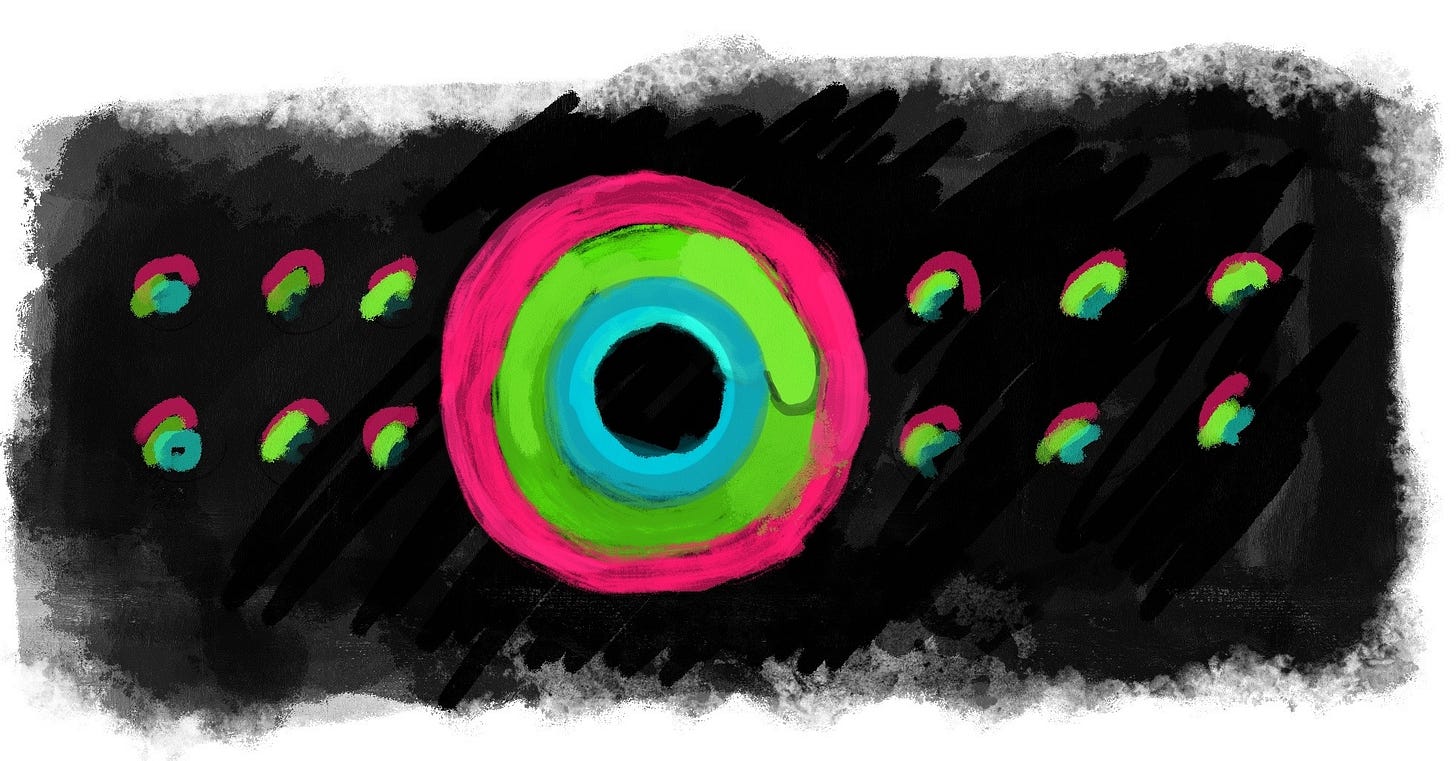 It's Slow Cooker Sunday, which means I try a new dish in my crockpot as I write the next issue of Proof of Concept. I'm writing as I wait for my BBQ chicken wings. It's an odd time where I am watching football, basketball, baseball, and hockey all at once (thanks pandemic). This gives me time to refine posts I've been slow cooking in my mind maps and brain, and this one has been on the backlog for a while. As I considered what to write this week, I decided it was time to talk about something never acknowledged publicly: getting my chronic condition of Type 2 Diabetes (T2D) under control.
Health is a difficult topic to discuss. Our health is part of the life story because it is interwoven with major events and we cannot escape it. Every human's health story is personal, and there is no one way to approach it. A forewarning that I'm writing this from a place to privilege and would like to acknowledge that. I have healthcare coverage and access to resources that enable me to focus on improving my health—something not everyone has access to. I'm sharing is my personal story, and in no way is this medical advice or telling those who battle illness how to approach it. I hope that you might find something from this issue to try.
"It got me too..."
The day was April 8, 2019. I was working at One Medical on the product design team and was walking from the bus stop on Fillmore and California St. in San Francisco, back to my apartment. I received a message from my primary care provider, who informed me my lab results were in. My hemoglobin A1c test results were very high...a signal for diabetes.
At first, it didn't hit me and I played it cool. As I made it home, I found myself teary-eyed. I couldn't remember the last time I felt like crying. It was probably when Rich Gannon threw five interceptions in the Super Bowl as Tampa Bay steamrolled my Oakland Raiders in 2003.
I first thought of my mom, who was diagnosed with T2D about 13 years ago. I remember her being in tears upon discovery and the sense of helplessness it came with it. Knowing that I would be at risk of this due to family health history, I felt like I let her down. The first week of diagnosis was full of shock and devastation…bringing me to such a state of sadness and inaction.
As I was eating a bucket of spicy fried chicken from Popeyes on Divisadero in San Francisco, I asked myself "why even bother anymore?" T2D is rampant among. My coworker Terese, a health provider, and operations leader, reminded me that it's okay to mourn and feel sad. It's part of the process to move on. I needed to hear those words to move forward. T2D is rampant in my family and quite common among Southeast Asians (I'm of Vietnamese descent). This could kill me overtime if I don't do anything about it. I responded in the way I knew how...I began prototyping and experimenting.
Finding something that works
Health and building products are two very different things, yet have common correlations. It's similar to dating and recruiting (for another issue another time). It can feel a bit strange to say that having a design and product background helped me with my chronic condition. Or is it the other way around? Regardless of which one it is, there were many common threads among the two.
Finding the current state and baseline
I enrolled in a Diabetes Education class at UCSF, a phenomenal health institution that provided such care and compassion. The first step was to figure out what the baseline is for my blood sugar level. Everybody and everybody is different, and I had to figure out mine. Using the mobile app One Drop, I rigorously logged my blood glucose to see what foods and exercises were doing to my blood glucose. If you can track it, you can run an experiment to see progress.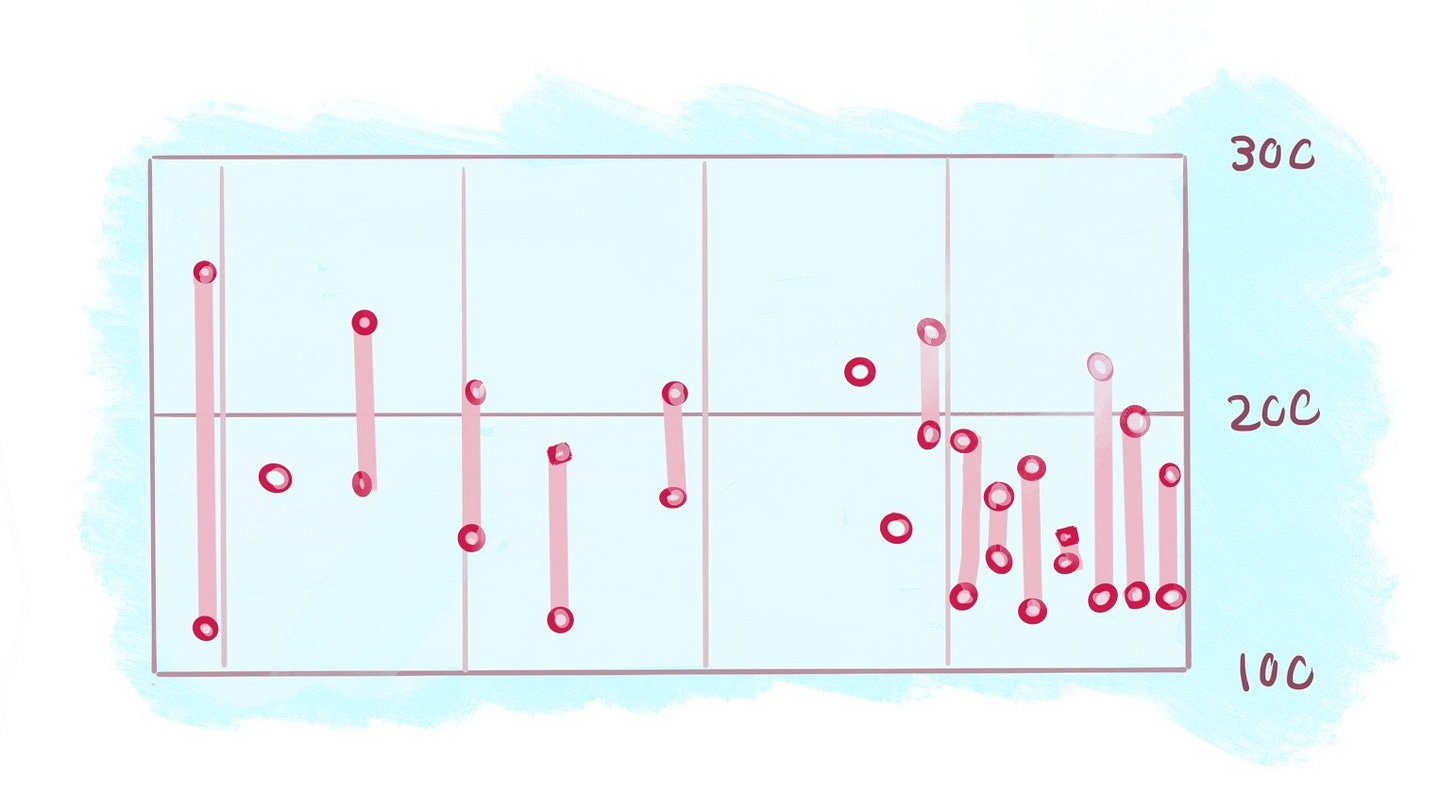 Obviously, the first experiment was on the three-piece fried chicken meal at Popeyes. If you can imagine, it did a number on my blood glucose. Nothing in the world would compromise my fried chicken lifestyle. Fried chicken is my mental health counterbalance and comfort food—a necessity to persevere (not joking).
I tried other elements, including walking to Popeyes instead of getting it ordered, and opted for no mashed potatoes.
"Hey, we're on to something." I thought with a sense of hope that I could make progress.
I found a pathway that supports my chicken lifestyle. Do you know that scene in Castaway when Tom Hanks started a fire? It was exactly like that.
Leveraging data and analytics
The user researcher in me couldn't help but turn to data for evidence. Viewing quantified data helps me recognize behavioral interactions over attitudinal. I learned a lot about data analytics from Wes, my manager, and VP of Product at One Medical at the time. Looking at my blood glucose based on a sample gives me better insight than guessing based on my intuition. I'm able to make quick adjustments for the rest of the day based on it.
Progress can feel like major changes are needed to make progress, yet tiny actions within a shorter cycle can make the difference over time. I created a project in Notion to have a backlog of different experiments:
What happens if I play two hours of basketball before brunch?

Experiment with one-week replacing rice with cauliflower

What happens when all workouts are replaced with more frequent breezy walks?
As I gathered results from the experiments, I formulated behaviors I'd have to adhere to. My ultimate goal wasn't to track my blood glucose every single moment of my life, rather identify trends I could create behaviors around. Some conclusions:
Brown rice and white rice didn't make a huge difference for me, so I cut rice in general in favor of other nutrients.

Gluten-free ice cream is terrible (objective fact), and I opted to give up ice cream in general

An evening walk after dinner significantly decreases my blood sugar glucose.
More than a year into being diagnosed with my condition, I still run experiments and add them to my Notion doc. Whether I have tested a use case or not, I have insights from previous experiments that help me make data-informed decisions about my health.
The highs and lows are ongoing
There will be moments, big moments, where things will not go as expected. Persevering through those hardships can be extremely challenging. All this success I shared with you above went out the window when COVID-19 hit. Before the pandemic, I was on a mission to close every single ring on my Apple Watch. With no end in sight of the pandemic (especially in the United States), I thought "Why even care about standing at this point?"
Hello hopelessness, my old friend.
I hit a slump of being inactive because of the pandemic. Months of being stuck at home and working from home resulted in physical pain in my back, knees, and feet. During my virtual visit to the doctor, I was not surprised that I needed to make some adjustments to get back on track. There will be moments in your career where you feel like there is no way to recover from it, and sometimes it might be years.
Making bets for future investments
The Roni is sticking around for a while, and I knew I had to make some sort of change. At first, I considered a stationary bike. However, the Peloton wife life didn't solve the problem of me getting outside (I live in Santa Monica and am in a place where going outside is safe). I always combining multiple tasks to invoke a compound effect, so I bought a bike that also allowed me to explore Los Angeles in a socially distant manner while getting exercise.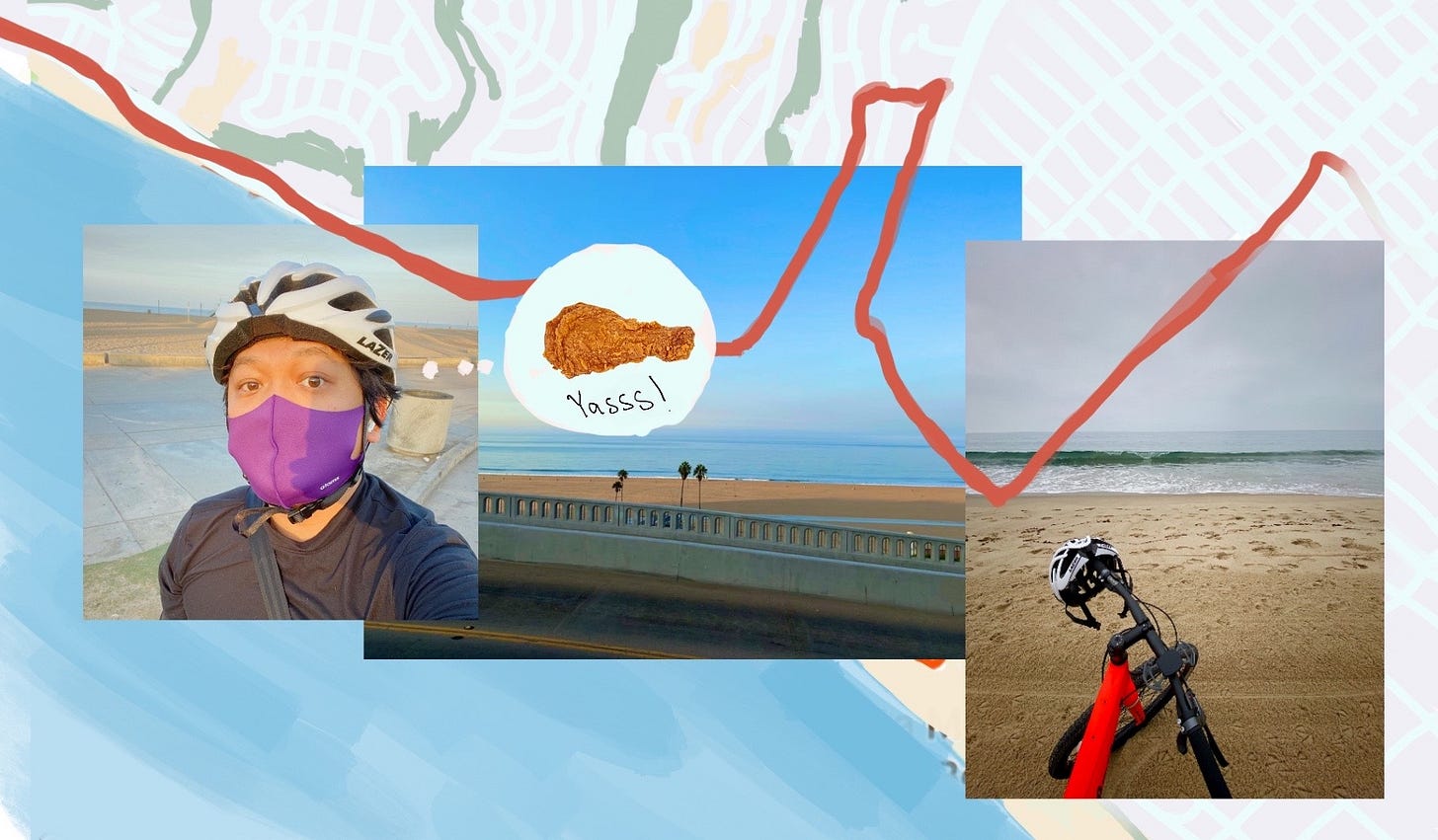 Though it's only been a week since investing in my bike, I'm finding that my good habits are coming back. The rings on the Apple Watch have re-filled, my back feels much better, and I've been safely exploring other neighborhoods in LA while staying off my foot.
The second investment? Why it's the slow cooker, of course.
Continuous delivery and feedback
I set personal OKR's and review them monthly. It's not only personal development, and includes health metrics. In addition to getting my A1c checked on a quarterly level, I review goals, such as weight loss, and log how I'm doing. Some months I'm off track, others I'm exceeding what I set. Like any good OKR, you want to set them aspirationally.
Support, coaching, and community
I wrote this week on Twitter about how the next evolution of designers will foster and nurture communities. These days, we might need more than just empathy to get through, and also communities driving contribution with the utmost compassion. I suppose this is what sparked my desire to write more openly about my health condition in hopes that I can reach out to those who might need help and struggling with the same.
A day at a time, a moment at a time
Did I wish I wish I didn't have to deal with my chronic condition? Yes, without question. However, this life-lasting health condition I have to keep under control has (in a way) unleashed the best version of myself. Type 2 diabetes is not fun to have and can be challenging. It has changed my life for the worst, yet brought the best in it.
Find the tiny moments to make changes, no matter how small, and know many humans are out there rooting for you…including me.
---
Notes
If you have Type 2 and need to talk to anyone, I'm here to listen and support

I rode 37.1 miles this week. I'd like to do more, but it's 37.1 more miles than I rode the previous week

In case you're wondering, my bike is a Salsa Journeyman Claris 650B

"The Roni's got me stressed out" by Chromeo