How I Turned My Television Into a Creative Box
Issue 09: How binge-watching The Simpsons DVDs for 3 months propelled my creative direction
Quick note: I renamed my newsletter from Proof of Concept to The Creative Odyssey. You can read about it here
Content warning: depression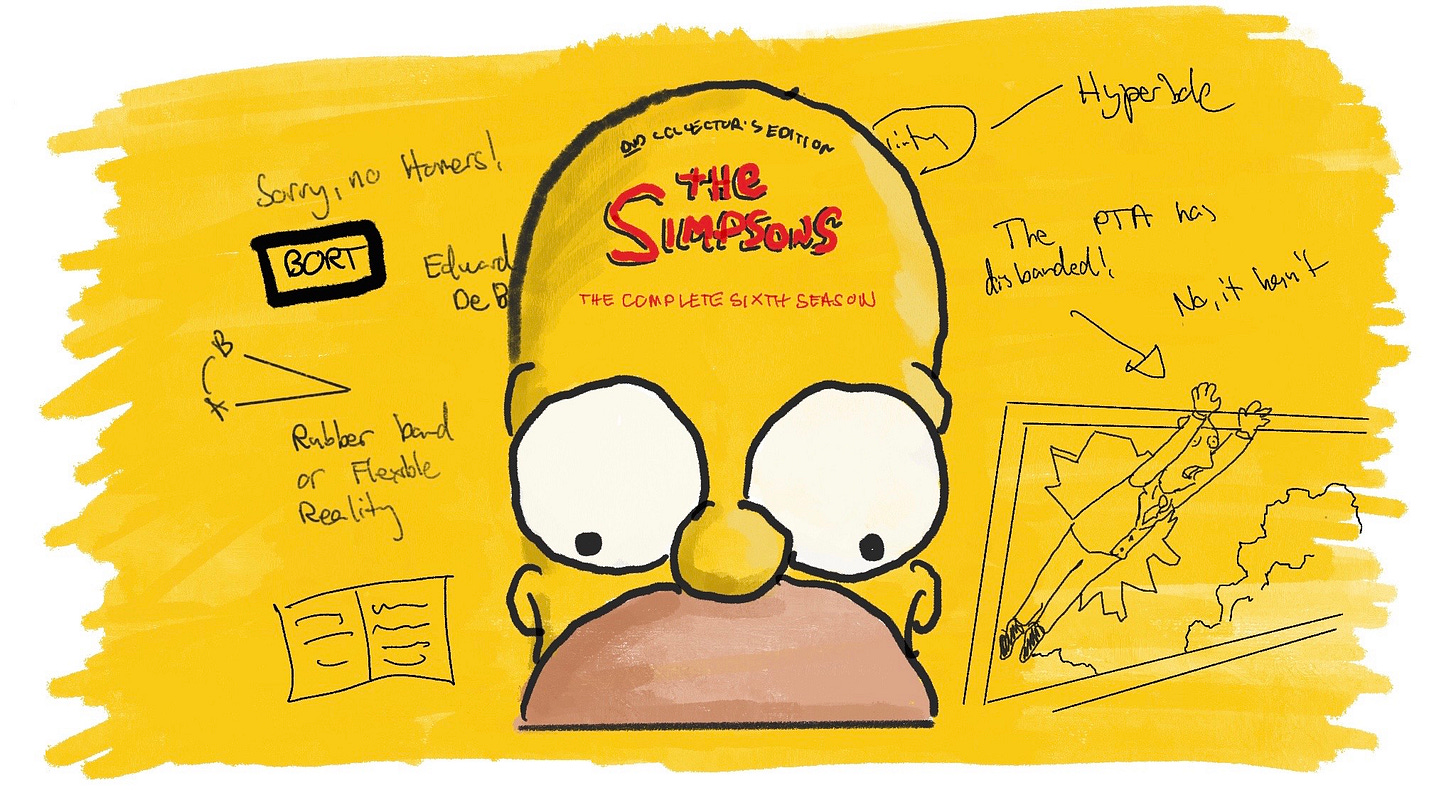 The year was 2007. The War in Afghanistan has been going for six years and people were grateful that the end was in sight. I recently transitioned from college to adulthood and now living in Seattle. I'm torn between upgrading my Motorola Razr to the Samsung Blackjack or the new iPhone Apple.
To be completely honest with you, it was a pretty depressing time. I recently graduated from college and now working in the real world. The majority of my life was going to work, coming home exhausted, having dinner, then going to sleep only to repeat the exact same thing. I had an entry-level job and it felt like every cent I made went to pay rent and bills. I wanted to go back to school and be a student for the rest of my life.
(Thank goodness kids these days graduating won't have to worry about a recession...wait, what?)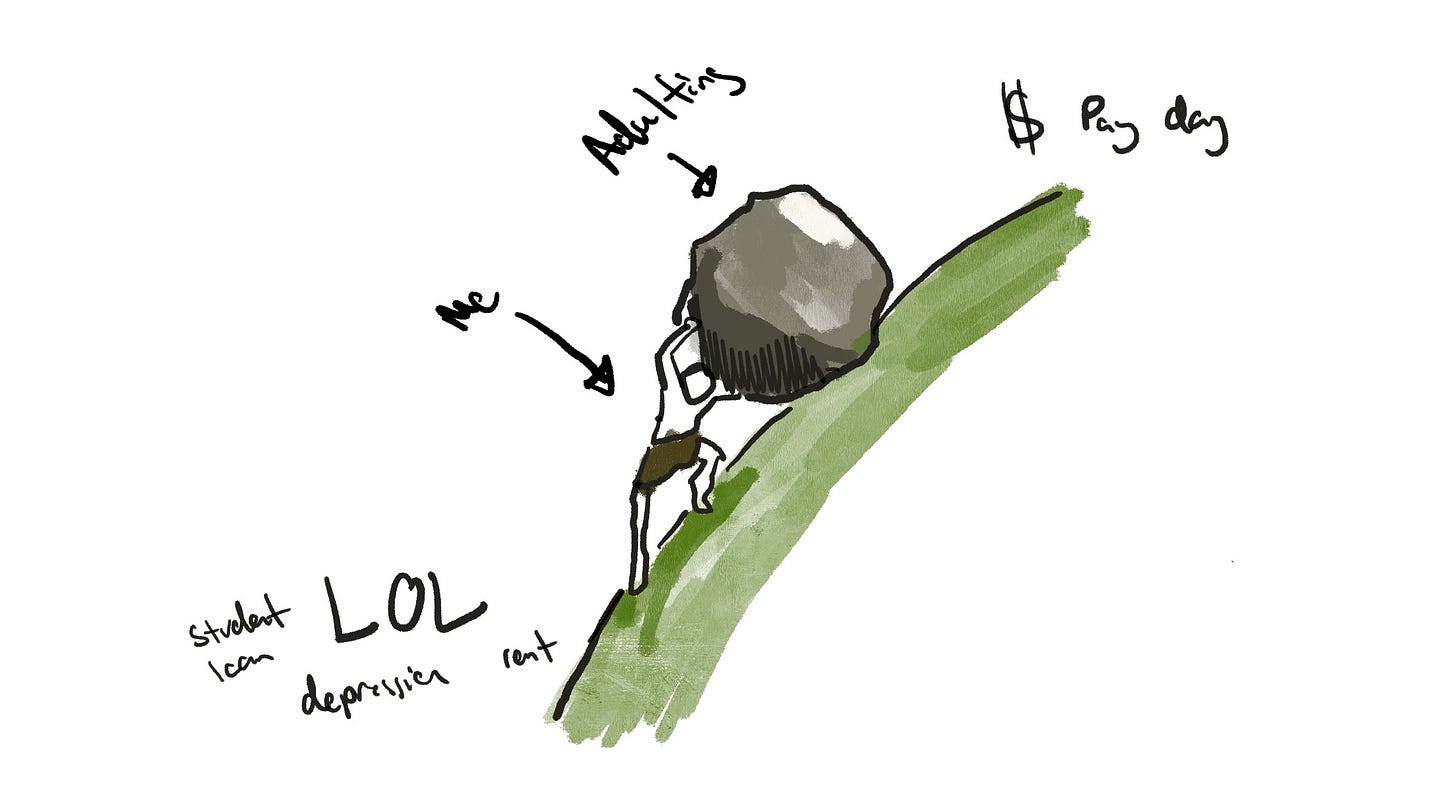 The only energy I had after work was watching television. Cable TV was a luxury that the big wigs could afford, not me. Luckily one of the artifacts I packed from my time in college was a DVD player I bought at Target. My DVD collection comprised of Terminator 2: Judgment Day (The Extreme Edition) and The Simpsons complete seasons. The show created by Matt Groening was a show I watched my entire childhood, starting with my uncle and my best friend. As a child, the show really was more of slapstick humor to me as I didn't understand the references that only adults would get. I laughed at gags such as the Flintstones parody in "Marge vs. The Monorail" in Seasons 4 where Homer hits a chestnut tree while singing his rendition of the theme song for the prehistoric Hanna-Barbera show. Looking back years later, my time of watching The Simpsons at that time was likely an escape to a better time than the life I had at the time.
One day, as I was preparing my Mac and Cheese dinner (a recipe I learned in college), I heard what I thought was a glitch in my DVD player. The audio of the show was so faint and you could hear a man speaking. It was a very haunting feeling. As I was in my kitchen, I walked four feet over to the living room to see what was going on. It was the voice of a few men talking about the show. I would learn the voice of this mysterious man was David Mirkin, the showrunner of Season 6—the series of shows I was watching at the time.
Apparently, I accidentally turned the DVD commentaries on the disc without realizing what happened. The conversation piqued my curiosity and I decided to keep the commentary going as I indulge in my carbohydrates and melted cheese.
The episode I was watching was "Homer the Great," one of the classics. It's the episode when Homer joins the Stonecutters, a secret society similar to the Freemasons. It also starred Patrick Stewart, known for his roles in David Lynch's Dune, Lifeforce, the voice of Richard LeGrey in the 1993 Westwood Studios computer game, "Lands of Lore: The Throne of Chaos." He was also in this little series called "Star Trek: The Next Generation."
One of the early gags in the episode is Homer stuck in traffic. The scene cuts to Homer turning on the radio to listen to Arie Pye in the Sky, the local helicopter traffic news reporter. Pye mentions that traffic is backed as far as he can see, with the shot panning out that it's his helicopter that crashed to reveal he's the cause of the traffic. In the next scene Homer parks at the very last spot in the nuclear power plant, the place of his employment. The screen then pans to Bart saying hi to him next door. You can hear Matt Groening, the show creator, and participant in the commentary groan. If you are familiar with The Simpsons, you'll know the nuclear power plant is nowhere near the home of the Simpsons on Evergreen Terrace.
Groening was not a fan of the joke because it completely changes the reality of the city of Springfield. Mirkin describes this as "flexible reality" or rubber band reality, where the writers change the reality of the world they built to tell a joke, then instantly snapped back. This was my moment like abstract artist Jackson Pollock discover his drip painting style. I honestly don't know the actual story of his discovery but it was well conveyed from a narrative standpoint in the biopic of the artist where Ed Harris portrays him.
I loved the moment of flexible reality. For the first time since I moved to Seattle, I picked up a sketchbook and started taking notes. I found feelings I have missed so dearly...curiosity and joy. What was an activity to detach from reality now became a couch masterclass. I turned the idiot box into a creative box. Television and media became a research method and a way to seek inspiration for me. My sketchbooks started filling up again as I listened to the DVD commentaries of seasons 1-10. The remaining amount of money I'd barely have from work went to buying more notebooks from Elliott Bay Book Company and DVDs.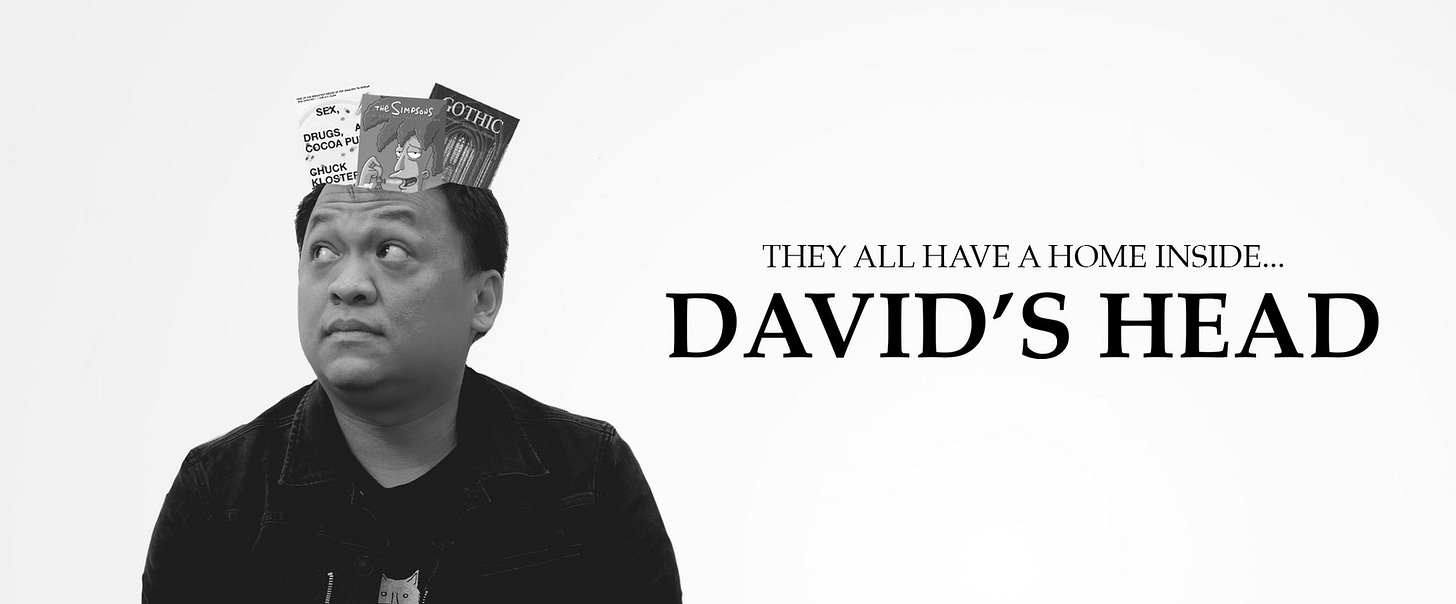 If you could see a visual diagram of how my mind works, it resembles more of a Robot Chicken episode than a structured outline. I didn't know it at the time, but I am a lateral thinker and love connecting the dots. It was the source of my creativity. The more I started thinking about Mirkin's flexible reality it made me want to explore other concepts. One of the concepts I discovered was lateral thinking, the creative method coined by Edward De Bono. Holy shit, where was this all my life?
David Mirkin did to me what Taye Diggs did to Angela Bassett in the 1998 romantic comedy-drama, I got my groove back (creatively). Though it's very possible that at other points in my life I would have discovered different creative processes, listening to these commentaries inspired me to explore on a deeper level.
The two things that helped me get out of my depressing state were my cat (at the time a young buck at five years old) and my Simpsons DVD commentaries. I became so inspired by the creative process and wanted more for inspiration. I believe this inspiration helped me get out of a creative funk and ultimately inspired me to create work again and propelled me into my design career (a story for another time).
Learning how other industries and people create
If there is one piece of advice I'd give people to be more creative, it's to keep a notebook or sketchbook. To me, a notebook and sketchbook are the same things. My words and pictures both are fuel for creation.
Many years later, I had another Simpsons DVD commentary moment. In the Nine Inch Nails album "Hesitation Marks", there is an additional track of Trent Reznor recording a voice memo talking about his process. In the recording, he talks about him and Atticus Ross creating the album "Year Zero" while on tour. He talks about the creative constraint of composing the entire album only with laptop equipment since they were on tour during the time.
Keep a notebook handy, write some ideas on how someone's creative process can inspire you. When you are working on something new, what are some rules you can create to guide the work?
My media consumption now
13 years later, in a much better mental state in my life, I find myself still practicing this habit. After a week of work, I find myself hunting for "the making of" content, now on YouTube instead of DVDs.
Some of my favorites right now
I asked a few people on Twitter about some shows and movies that inspire them, and you can check out their answers in this thread.
If you ever feel in a creative rut, why not try a little television?
---
Notes